Here we go with round two, read on for my highlights of the second half of 2018. If you missed part 1 – check it out here first (unless you like to read endings before beginnings!)
7. Much to the delight of my brother, who has been nagging me for years, I expanded my own social media portfolio to include Instagram – see below! As with Twitter, you can find and follow me @EffieMWard
8. In July and October, I joined Kerry Nicholls in the studio to participate in her week-long professional masterclass offerings; as well as a 1-to-1 creative coaching session, a great opportunity to check in with Kerry having had my last Performance Mentoring Programme session in January. The July masterclasses not only coincided with the summer heatwave – so there was a lot of glorious sweating going on – but also fell during IF: Milton Keynes International Festival. This meant I was getting my morning inspiration in the studio (and boy does it come thick and fast when you're being pushed by Kerry!) and then spending my afternoons watching and immersing myself in the wonderful events that IF brings to MK – my pick of the festival this year has to be Dries Verhoeven's 'Phobiarama'. It really was a joyous week, which left me feeling artistically replenished and ready to take on the world. Rejoining KND in October, I can not express enough how much of a lifeline the masterclasses are – they are imbued with Kerry's drive for pushing onwards physically and mentally, but also strive to develop a connected, supportive, encouraging community of freelancers. Taking the time for a 1-to-1 coaching session was also a great tool in motivation – after an hour talking through the changes I'd made over the past 9 months (for which much of the courage to enact change was brought about through participating in the Performance Mentoring Programme), I left with renewed clarity of actions to take and avenues to explore going forward. Thank you Kerry!
Life is a Dream Rambert Residency
9. Following a weekend of training and learning some of the repertoire from Kim Brandstrup's 'Life is a Dream', I had the absolute pleasure of delivering 4 residencies for Rambert on the work in Mold, Llandudno, Eastbourne and Edinburgh. In each of these residencies I worked with participants to create a new piece of work inspired by the repertoire – all rose to the challenge with aplomb, and some visually stunning and mesmerising material emerged, sometimes from groups who had only met each other a couple of days prior. What was wonderful for me, was that there was so much source material for me to draw from in offering creative tasks that it allowed me to shape each piece around a different aspect of the work – keeping everything fresh and alive and giving a real sense of ownership to each different group that I worked with. An added bonus during my time in Eastbourne was that artist-in-residence Lindy Dunbar joined us at her easel throughout the rehearsals capturing beautiful impressions as the movement was created and rehearsed. It was such a treat to have the creative value of the space escalated by Lindy's presence and for there to be such a mutual respect between us both and the participants in the two artforms. After the event, Lindy commented "I can't believe how much you achieved Effie in such a short time. I was delighted to be able to watch in awe from the side lines and try to capture the talented dancers in their lively dance."
10. Always a special place in my heart and my year goes to the Open Dance Group Summer School. Throughout the year, I am one of the rolling regular teachers for the Tuesday evening classes held at the Open University in Milton Keynes. Since 2015, I have helped the group to book 4 visiting artists to each lead a day's workshop over 4 days in summer – this year we welcomed Harriet Waghorn, Eleesha Drennan, Vanessa Vince-Pang and Tim Blowfield. This was the 27th year of the summer school running, and what a year it was – with generous and committed attendees inhabiting the space together and an age range spanning from 16 to 76. I found it such a delightful space to dance, share and bask in – where there's no sense of hierarchy as students dance alongside teachers, recent graduates alongside community dancers with years of experience under their belts. If you're interested, do save the dates for next year, 15th-18th August 2019, and keep an eye out for which dance artists will be visiting!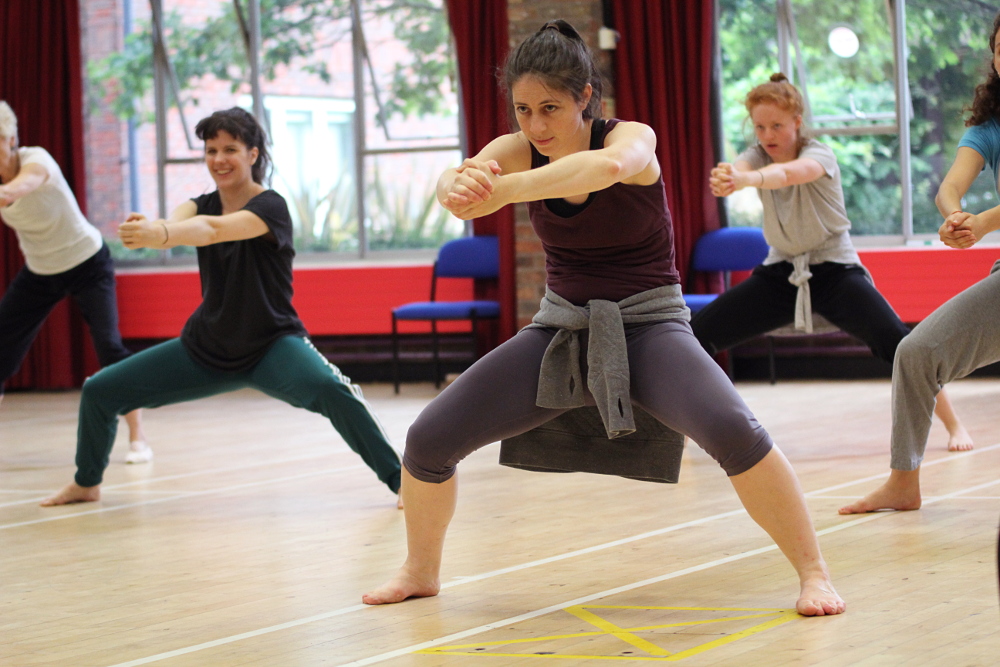 Open Dance Group Summer School
11. As part of her DanceXchange Choreography Award, Rebecca Randall invited me to Birmingham to explore her practice over several days with a small group of artists, collaborators and advisers. What was unique about this studio time is that there was no performance sharing end-game – so it was very much time for Rebecca to play with her relationship to structuring and setting movement material for choreography and her other strand of creating performance through live improvisation and storytelling, and how these 2 elements informed each other. It was a wonderful process to be part of, as there was time to get so involved, swept up in an idea and be really curious in the moment without an urgency to refine and have a product too early on. The environment for sharing the space was also crafted with such care, allowing us all to be vulnerable, honest and go on personal journeys each time we entered the space – this was a real testament to Rebecca as she was having to cope with working around a lot of different schedules: the number and mix of people in the space would change from day to day and sometimes from morning to afternoon.
12. My final highlight for the year involved taking a trip to Darlington with Pell Ensemble. I was invited as an Education Assistant to help create a curtain raiser for the company's performance of 'Upload/ Unplug'. Being so used to travelling solo for all of my animateuring work over the past couple of years, it was such a revelation to travel with company – I've never known a 2.5 hour train journey to go so quickly! Rebecca Evans, who directs Pell Ensemble, was a great companion and brimming with ideas and conversation topics having just undertaken a two-week programme at Studio Wayne McGregor as part of the QuestLab Network. Throughout our week together, I found Rebecca a real instigator of thoughtful conversation which provoked me to draw on experiences and thoughts of my own, some of which had laid untouched for a good while! It was also brilliant to see how her production 'Upload/ Unplug' had developed, having previously seen the piece (when it was known as 'David' in an early production stage) and how much clearer it is that your digital input is impacting the performance. If you're yet to experience some digital dance, do look out for 'Upload/ Unplug'
That draws me to a close on my top 12 highlights of 2018. Thank you to everyone who made it happen – everyone I've taught, danced with and learned from in turn – so many wonderful artists that to try and list you all individually would take days, but please know how much I value your worth. Towards the end of the year, I gifted myself a week to go to professional class every day and I can't express how lovely it was to realise that I had found a real sense of joy and uplift in dancing again – something which when you make your hobby your career can easily get lost somewhere along the way.
PS You may remember that back in 2017 I reignited my love of reading…this year I discovered Marge Piercy's books and would thoroughly recommend if you're not already acquainted!